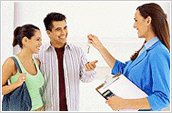 It is important to organise your mortgage as soon as you think you have found a suitable property. The loan may take a few weeks to process, and the person you are buying from (and the estate agent) will want to know your mortgage lender is all set to go.

If you want to arrange mortgage finance before you have even found your property we can apply for an Approval In Principle for you. This Approval is often handy to convince the vendor that you are a genuine purchaser. We can arrange for your mortgage application to be submitted as an Approval in Principle – just make sure you mention this when submitting your application.

The amount you will are able to borrow is primarily determined by your income, your employment status, the size of deposit you can provide and what other financial commitments to you have.

There are two ways you can find a mortgage. The first way is to shop around among the different mortgage lenders yourself and see what each has to offer. The second way is to come to us, who can search our huge database of lenders to find a suitable loan for you.

Which approach you use will depend on what kind of person you are. Some borrowers are more comfortable getting their mortgage from an lender they have dealt with before; for example, they simply use the same bank which runs their current account. Others are determined to get the best possible deal, and so use a broker to shop around from the hundreds of different mortgages available.